It Be Blog
Nov 29
"About 85% of my 'thinking' time was spent getting into a position to think." — J.C.R. Licklider , 1960
(Source: The Wall Street Journal)
Sep 09
Basic Facts for Public Education for Prevention of DENGUE
Introduction
Dengue is the most widespread mosquito-borne infection in human beings, which in recent years has become a major international public health concern. It is usually found in tropical and sub-tropical regions around the world, particularly in urban and semi-urban areas. Over the last 15 years, we have witnessed a dramatic increase in the global incidence of dengue and its severe manifestations such as dengue hemorrhagic fever (DHF) and dengue shock syndrome (DSS). Almost 95% of Dengue cases are amongst children under the age of 15 years. Without proper management, Dengue Hemorrhagic Fever case fatality rates can exceed 20%, however, with modern intensive supportive therapy these rates can be reduced to less than 1%.
Transmission
Dengue viruses are transmitted to humans through the bite(s) of infective female Aedes Aegypti mosquitoes, which generally acquire the virus while feeding on the blood of an infected person. After incubation for 8-10 days, an infected mosquito is capable, during probing and blood feeding, of transmitting the virus, to susceptible individuals for the rest of its life. Infected female mosquitoes may also transmit the virus to their offspring by transovarial (via the eggs) transmission.
Humans are the main amplifying host of the virus, although studies have shown that in some parts of the world monkeys may become infected and perhaps serve as a source of virus for uninfected mosquitoes. The virus circulates in the blood of infected humans for 2-7 days, at approximately the same time as they have fever Aedes Aegypti mosquitoes may acquire the virus when they feed on an individual during this period.
Prevention and control measures
Presently, the only method of controlling or preventing DF and DHF is to combat the vector mosquitoes. Aedes Aegypti breeds primarily in man-made containers like earthenware jars, metal drums and concrete cisterns used for domestic water storage, as well as discarded plastic food containers, used automobile tyres and other items that collect rainwater.
Vector control is implemented using environmental management and chemical methods. Proper solid waste disposal and improved water storage practices, including covering containers to prevent access by egg laying female mosquitoes, are encouraged through community-based programmes. 
The application of appropriate insecticides to larval habitats, particularly those used by the households, such as water storage vessels can prevent mosquito breeding for several weeks therefore these insecticides must be used periodically. The use of family size insecticide treated nets (ITNs) is also recommended. General insecticide spraying targeting mosquito breeding habitats need to be carried out to kill adult mosquitoes using portable or truck-mounted machines.
Guidelines for the families of affected persons
Keep body temperature below 39oC. Give the patient paracetamol (not more than four times in 24 hours) according to the dose prescribed below:
Age
Dose (tablet 250 mg)
Mg/dose
< 1 year
¼ tablet
60 
1-4 years
½ tablet
60-120 
5 and above
1 tablet
240 
·         Do not give the patient Aspirin or Ibuprofen
·         Give large amounts of fluids (water, soups, milk and juices) along with thepatient's normal diet
·         The patient should rest
·         Immediately consult your physician if any of the following manifestationsappear: Red spots or points on the skin; bleeding from the nose or gums; frequent vomiting; vomiting with blood; black stools; sleepiness; constantcrying; abdominal pain; excessive thirst (dry mouth); pale, cold or clammy skin; or difficulty in breathing.
Characteristics
Dengue fever is a severe, flu-like illness that affects infants, young children and adults, but seldom causes death. The clinical features of dengue fever vary according to the age of the patient. Infants and young children may have a non-specific febrile illness with rash. Older children and adults may have either a mild febrile syndrome or the classical incapacitating disease with abrupt onset and high fever, severe headache, pain behind the eyes, muscle and joint pains, and rash.
Dengue hemorrhagic fever is a potentially deadly complication that is characterized by high fever, hemorrhagic phenomena, often with enlargement of the liver and in severe cases, circulatory failure. The illness commonly begins with a sudden rise in temperature accompanied by facial flush and other non-specific constitutional symptoms of dengue fever. The fever usually continues for two to seven days and can be as high as 40-41°C, possibly with febrile convulsions and hemorrhagic phenomena.
In moderate DHF cases, all signs and symptoms abate after the fever subsides. In severe cases, the patient's condition may suddenly deteriorate after a few days of fever when the temperature drops, followed by signs of circulatory failure, and the patient may rapidly go into a critical state of shock and die within 12-24 hours, or quickly recover following appropriate volume replacement therapy.
Immunization
At the present time, no vaccination is available against Dengue Fever or Dengue Hemorrhagic Fever.
Prevent mosquito bites
o    Dengue mosquitoes bite during the daytime - protect yourself from the bite
o    Wear full-sleeve clothes and long dresses to cover the limbs.
o    Use repellents–care should be taken in using repellents on very young children or the elderly
o    Use mosquito coils and electric vapour mats during the daytime to prevent mosquito bites
o    Use insecticide treated nets (ITNs) to protect young children, pregnant women, old people, in addition to others who may rest during the day.
o    Curtains (cloth or bamboo) can also be treated with insecticide and hung at windows or doorways, to repel or kill mosquitoes.
Prevent multiplication of mosquitoes (Vector Control)
Mosquitoes which spread Dengue live and breed in stagnant water in and around houses, and places where solid waste is dumped.
o    Drain out the water from desert/window air coolers when not in use, in addition to tanks, barrels, drums, and buckets.
o    Remove all objects containing water such as plant saucers from the house.
o    All stored water containers should be kept covered at all times.
o    Collect and destroy discarded containers in which water collects, such as bottles, plastic bags, tins, tyres, etc.
o    Efficient disposal of all solid waste/garbage.
Basic facts about Dengue and Dengue Hemorrhagic Fever
How does dengue spread? Dengue is spread through the bite of an infected Aedes Aegypti mosquito. The mosquito gets the virus by biting an infected person. The first symptoms of the disease occur about 5-7 days after the infected bite. There is no way to tell if a mosquito is carrying the Dengue virus. Therefore, people must protect themselves from all mosquito bites.
Where does this mosquito live? This mosquito rests indoors, in closets and other dark places. Outside, it rests where it is cool and shaded. The female mosquito lays her eggs in water containers in and around homes, schools and other areas in towns or villages. These eggs become adults in about 10 days.
Where does the mosquito breed? Dengue mosquitoes breed in stored, exposed, water collection systems. The favoured breeding places are: barrels, drums, jars, pots, buckets, flower vases, plant saucers, tanks, discarded bottles/tins, tyres, or water coolers, and other places where rainwater collects or is stored.
May 04
My personal Osama bin laden conspiracy theory!
Here goes.
Pakistan had harbored Osama bin laden (whoever ISI or the army etc) for years as a just in case bargaining chip, say should the USA come after its nukes for some silly reason.
Then they saw an opportunity (don't ask how).
They bargained with the US, offered to give them Laden saying they have found him.
In return the US would ensure and guarantee a Major time big Pakistani role in the post US Afghanistan of 2012.
This allows the US to easily get out of Afghanistan (they were gonna any way in 2012) but now that bin laden problem is part solved, its one less headache.
Pakistan this way gets to counter the Indian role in Afghanistan and can maintain its security better or whatever and counter that threat. ISI is already buddies with some of the taliban there.
And in the meanwhile it can continue acting stupid, 'oh we didn't know he was here … how Silly of us…' , the reward is gonna come later.
Conspiracy theory end.
The future years will now set the record straight. Tick tock.
Jul 23
City boundaries for Lahore, Multan and Rawalpindi in the works?
Says so the following paragraph!
NESPAK to develop City Boundaries in 3 cities. Link (PDF).
NESPAK recently made presentations regarding existing & proposed city boundaries of Lahore, Rawalpindi and Multan to respective Commissioners & other stakeholders. NESPAK is rendering urban planning services for analysing available data and other documents like master plans, structure plans, outline development plans and census reports. NESPAK is also responsible for interpretation of geographic boundaries of the cities and anticipating the pace and direction of future growth of these cities during the next 20 years on the basis of realistic and professional assessment.
Jun 15
Atta Abad Landslide disaster & Relief in Pakistan
The Atta Abad landslide in Gilgit-Baltistan (Pakistan) in January 2010 had gone un-noticed and the kind of efforts in managing that disaster, had that disaster taken place in Lahore or Islamabad, were never put in that region. While the slow pace of work continued, the lake behind the landslide which was blocking the Hunza River continued to grow submerging numerous villages and endangering communities downstream should the dam breach.
In an effort to bring this disaster to the public's top of mind and to try present a clearer picture (literally) of what had happened in the region, I made an appeal to the Google Earth team to help with some current satellite imagery of the disaster area, thinking that maybe images would jolt our government and disaster managers into taking swifter action and rally public support for relief activities in the area.
Those efforts yielded results, NASA released imagery, immediately followed by Google.
A friend of mine and I (we both are contributors to Google Map Maker) set out to make information about that disaster more transparent and publicly available. Meanwhile, a few international organizations started supporting our effort and helped us with the data they had collected.
The result is the Hunza Landslide Relief Support website which brings together maps, photos, locations of sunk villages, IDP camps, hospitals, bridges submerged or at risk and other related info from other organizations all in one place. You will be able to see what the size of this enormous lake really is and see the communities it has affected.
This note is an effort again to highlight the magnitude of this disaster and bring these forgotten peoples plight to our minds. Your few minutes spent on this site looking at the photos  (click the Panoramio link), videos, seeing how the lake grew (various links on the page) and submerged farmlands and houses and learning about the disaster and its effects in general, would be of great help.
This effort was noticed and supported by the people at Google.org and Google gave our site some coverage on their official blog here :)
Oh, and since Telenor's network has EDGE internet in and around the Hunza valley, one of their USB EDGE sticks (courtesy of their CSR) is helping with the gathering and dissemination of daily updates from the region.
Take a look, here's the site: Hunza Landslide Relief Support
Jun 03
Cyclone Phet - KARACHI - Info & Reources - Bhaaago!!!
Before every one freaks out totally, caution is required. But unless you freak out you wont be prepared either…

Yes, be prepared, be very very prepared, but it appears the typhoon/cyclone will not strike Sindh/Karachi with full force and not till Saturday. Situation may change, i am talking about what i have seen from the links below.

Rain induced flooding is the real concern here, being blown away by the cyclone will be a lesser concern since it would have toned back down to just a 'storm' by the time it reaches Karachi and environs.

Storms estimated path and other related info can be found at these sites. The "KARACHI WILL BE HIT" slogans are a bit old ( a day old) now as the cyclone had continued on it north-western path longer than anticipated. It will be hitting Oman with full force instead and then lose most of its power.

Good resources here for those who want to track the storm.
Links:
1. http://www.hurricanezone.net/
2. http://www.usno.navy.mil/
3. http://www.nrlmry.navy.mil/tc_pages/tc_home.html
(this link has an associated KML which you can use to watch the storm progress on google earth, pretty good thing with hourly satellite image updates by various satellites)
4. http://tropicalcyclones.blogspot.com/
5. http://www.wunderground.com/tropical/tracking/na201003_flashtool.html?extraprod=flashtool&MR=1
(wunderground's Flash Tracker is good)

Lastly our own Pak Met:
http://pakmet.com.pk/mon&tc/Tcyclone.pdf
PS. Text on the map such as 04/18Z means, 4th June, 1800hrs Zulu Time or UTC (=GMT). You can calculate Pakistan time by adding 5hrs to the Zulu time.
This expected time is for storm center to be at the given spot. The FRONTS leading the storm will probably bring a change of weather with strong winds and rain and all that which has i hear already started happening in parts of Sindh, but that wont be the real storm itself, which will catch up later. So expect things to happen BEFORE the Zulu time as well!
And Heres a hope and a prayer that we are spared.
BTW I'm not a meteorologist so consume above information with caution and watch out for local news.
In other news, HUNZA, www.local.com.pk/hunza
Apr 20
I didnt know that!
Unexplored heritage

Archaeology Department and other organisations working for the preservation and promotion of culture of Lahore should take notice of the mounds in Daulatabad and commence excavation at the spot 

By Haroon Khalid
Many historians believe that original city of Lahore is not the walled city of today but in fact the locality of Ichhra a few kilometres from the area. Various evidences are shown to prove this thesis, one of which is that the oldest Hindu temples exist in the locality.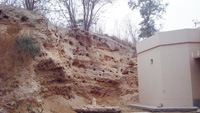 Right now we would not delve upon the already established evidences but would try to look at new traces that can shed some light on the history of the city. In popular myths and legends it is believed that the city of Lahore originates in antiquity. A popular myth is that this city was founded by one of the twin sons of Sri Ram and Sita, Lahu whereas the other son establised the twin city of Kasur.
In Lahore Fort there is a small temple attributed to this son of Ram, called the temple of Lahu. Keeping beliefs and myths at bay, the first concrete historical evidence of the city comes during the tenure of Mahmud Ghazni, who is said to have attacked the city, and defeated the Hindu King Jaipal. Al Beruni in his famous Al-Hind mentions of this city. This is the beginning of the 11th century CE. If we are to prove that Lahore is older than one thousand years, we need to substantiate our claim with real evidence, and given the hypothesis that the original Lahore finds its origin from Ichhra, we need to look for evidences around that locality.
One such testimony could be hidden under the tomb of Shah Jamal, which is next to this small town. The fact that the Saint rests atop a huge mound leads us to believe that there could be traces of an old establishment there. However, now that this tomb has been constructed and has thousands of devotees, one can not talk about looking at hints here. Maulvi Nur Ahmad Chishti in his seminal work talks about a small locality known by the name of Daulatabad, situated in between Central Jail, and Mozang. However, he also states that all traces of that settlement have been lost. In his work he also mentions that the tomb of the famous Saint Syed Abdul Sani is situated near this area. Chishti says that now only five forts are found here. All the subsequent historians bought Chishti's thesis, and denied the existence of any remains of Daulatabad.
Recently, while working on a chapter in his Encyclopedia of Lahore, Iqbal Qaiser located the tomb of Syed Abdul Qadir Sani, flanked in between the Birdwood road, and Waris road. There is no trace of the five forts mentioned by Chishti anymore, just the tomb. This sanctuary is located in an empty plot of land, which now falls under the jurisdiction of the army. While he was looking around for traces of anything else, an army man approached him, and offered to show him around. He told him that nothing lies here, and that the real treasure lies across the Birdwood road where the office of provincial Health Development Centre stands. On being taken there, he came across two huge mounds, taller than the building itself, standing right in the middle of the complex.
Our initial reaction was that they were the remains of the destroyed forts but the sheer magnitude of the mounds, and the presence of various layers presented a different story. This led us to the conclusion that these have to be the remains of the lost town of Daulatabad. Amongst the various layers, one was composed of modern bricks, which came in vogue during the later Sikh and early British period - burnt bricks, bigger bricks, perhaps from Mughal era or earlier, and fibres of wood having been buried for a long period of time. Pieces of pottery can also be seen scattered all over the place. Clearly, we are talking about a city built, destroyed and rebuilt many a times. These are the remains of not just the forts but an entire town. This is where the history of Daulatabad and antiquity of Lahore converge.
Given the proximity of these mounds to the town of Ichhra, our hypothesis is that buried in between those mounds is the ancient history of Lahore. We believe that archaeological excavation at the site would take the history of Lahore further back from the date that we start right now. If our hypothesis is correct, this could be the most important discovery in the history of the city.
However, there is an urgency. This entire area came under the sway of the Pakistan army, after the creation of the country. In 2001, they decided to sell it to get funds for the creation of a new GHQ at Islamabad. However, the Government of Punjab intervened, claiming that the property belongs to them, therefore the army can't sell it. Now the land across the Birdwood road, where the tomb of Syed Abdul Qadir Sani stands, is under the army, and the place where the mounds lie, is under the control of the Government of Punjab. The government at the moment is expanding the offices here and has already gotten rid of some mounds. If the Department of Archaeology doesn't intervene anytime soon, then these mounds would also be lost, taking us back to square one.
A question to be answered is: what is the town of Daulatabad. There are two possible answers to this particular question. There are two Daulats in history, that can be attributed with the name of this town. One of them is Daulat Khan, who was the Governor of Lahore, during the tenure of Ibrahim Lodhi, before the arrival of the Mughal conqueror Babar. Many historians believe that the name of this town is derived from this Governor. Naqoosh Lahore Number relates that there was a Sarai Daulat Khan, Bagh Daulat Khan, and a Fort here, which fell into disrepair when Humayun was ousted from India.
The second Daulat is Daulat Shah, son of Syed Abdul Qadir Sani. According to Chishti, his real name was Syed Ghayasuddin. Daulatabad is named after his nick name, Daulat Shah. He was born here, became famous here, and was later interred here. Maulvi Nur Ahmad Chishti claims that the Khanqah of Meer Yaqub, and the well of Meer Yaqub were also present here. The five forts that he mentioned and claimed to have seen in the late 19th century CE were named as following: Killa Meer Mohammad, Killa Meer Arshad Khan, Killa Kafiat Khan, Killa Nawab Meer Mahmud, and Killa Meer Akbar. The first three of these are named after the sons of Syed Abdul Qadir Sani.
These forts were isolated during the raid of the Afghan King Shah Zaman. Later, during the tenure of Ranjit Singh, this locality was taken over and used for military purposes. This policy was perpetuated by the subsequent British, and Pakistani governments. In 2001, for some reason that only the military can explain, these forts were razed, and so was the history associated with it. The unanswered questions regarding the origin of Daulatabad and Lahore are buried somewhere in between these two mounds. Therefore it is our plea to the Archaeology Department and other organisations working for the preservation and promotion of culture of Lahore, to take notice of this dire situation, and work towards commencing excavation at the spot.
Apr 14
"With knowing comes caring. And with caring, there's hope…" —
Sylvia Earle
http://www.ted.com/talks/lang/eng/sylvia_earle_s_ted_prize_wish_to_protect_our_oceans.html
The sobering experience of a fellow Fulbrighter…
A reward for coming back
By: Khalid Hayat Jamaldini, Fulbright Scholar 2006-08
When will the Balochs stop being victims of the Pakistani paramilitary forces?
Torture and kidnap of Balochs in Balochistan by the Pakistani law enforcement, especially the paramilitary forces, has become very common practice since the last few years. They kidnap us, arrest us on false charges, torture us, brutally murder us and then throw us away. Many of us are still missing. The reasons behind these incidents are because we are Baloch by ethnic and we are continuously demanding for our rights and identity. This mistreatment happens to Baloch at all level; rich and poor educated and uneducated.
On April 8, 2010 I also had to go through the torture process by the paramilitary forces in Quetta, capital of Balochistan.  It happened when I left my hometown, Noshki, about 120km from Quetta. When we entered Quetta, the time was about 09.00 pm, and the van was stopped a couple of times by the paramilitary. Each time the same questions were asked: where is the van coming from and what's in your bag? Each time the driver and passengers told them that we came from Noshki, and I had to tell them my bag carried "one laptop and two pairs of cloths". 
After the van dropped us off at its final destination, I had to catch a riskhaw (a three wheel taxi) to go to the place where I was supposed to spend the night. On the way, I was again stopped several times and the same questions were asked and my reply was the same. And I was asked to get off from the rickshaw and open my bag to prove that I was telling the truth. I really got sick and tired of zipping and unzipping the bag. Therefore, I left my bag opened. Moreover, their rude behavior towards me was torturing, annoying and made me nervous. And I feel that I have entered a different or an occupied territory. 
When I was almost reaching my destination, I was again stopped by the forces, and had to suffer the same process. This time I told them: This is what I have in my bag and you can check it but I am not going to open it for you. You are welcome to do it yourself.  The solider did not like my words and started to shout at me while threatened to punish in a way that I have never thought of. I responded and asked him to let me speak to his officer as I found his behavior offensive.
When he did not return immediately, I went to look for him to sort out the problem so that I could leave. When I found him, I overheard him tell his officer not to release me as he wanted to teach me a lesson; that I was trying to be smart. By now I knew things were going to get messy. They were not allowing me to leave and making me wait long hours became a mental torture to me; and I was forced to stand at the road side.  So I asked to see their senior officer. They told he would arrive soon and that they have decided what to do with me. I was mentally prepared to face the consequences of my action and I recalled all that I have heard from other Balochs who had been brutally treated; their stories are true.
A few minutes later, the major arrived in a red Toyota four-wheel pickup, with gunmen, followed by a one-door pickup full of armed men. The latter welcomed the major, after which they called for me. The major, who looks like a 'practising Muslim" with long beard, greeted me and asked for my name. His name was Asim, according to his nametag. I started the conversation in English, where he told me that his men had lodged a complained against me.
I replied "Major, it is good that they have someone to listen to them. To whom and where should I complain about their rude behaviors that I faced since I entered this city".
We went further and discussed what the issue was. I told him that I was carrying my laptop and clothes in this bag that I have zipped and unzipped it several times since I have entered the city.
I said: "I have just told your solider the same and if he wanted to check he is welcomed but I am not going to open it for him because I am tired".
"He has taken my words as an insult because he is in uniform," I told the major.
The major said that his men were standing there for civilian's security and they were called by the provincial government. I replied "We appreciate what you people are doing but it does not mean that you have to get on our nerves. We also get tired of being disrespected in the name of security".
Furthermore, I told him that I have not seen any improvement in the situation despite an increase of torture cases against us.  Asked again for my Identity card to double check and asked me where I work. I replied I was jobless, just came to the city to buy some stuff and will return home tomorrow; and that was a fact.
 His people started to search my bag and within a second or two without opening the other pockets they showed Asim a piece of marijuana rapped in a plastic. Well, I was already prepared to face all this when they were discussing among themselves about teaching me a lesson. After showing it to the major, he asked if indeed I was carrying the drug.
 I replied "I am really sorry to say that you haven't heard a single word that I have been telling you. Let me repeat it for you: this bag has been unzipped several times at different check posts and this time I did not protest nor show them the bag. But I asked them to do it themselves. I said I was not going to open it for them".
I added "At the other posts, no one found such stuff in my bag although they searched every part of it, but at this post they found this piece of rubbish in my bag without opening and searching every pocket of it. And for your information, I have never smoked in my life and nor I am a drug addict or a dealer carrying a couple of grams marijuana to make an earning".
 I continued telling the major this was really childish, that I had heard all this before and seen it in the movies, and that it was good that I was seeing it in real life. For awhile, I thought the major has realized that his men had chosen the wrong tactic to take revenge on me.
When he asked his men why they did this to me, they replied that they were prepared to swear on the Holy Quran that they have not kept the marijuana. This sentence of theirs upset me a lot and I lost my temper.
I told them "Look at yourselves you bastards with long beards on your faces; you want to prove that you are practicing Muslims but in reality you are worse than the Satan (devil).You guys are ready to swear on the Holy Book. Do you ever know the importance of the Quran"?
The major interrupted and tried to calm me down by telling me that I am "an educated person" and such language did not suit me. I told him that I am being rewarded already for being a highly educated person in this society.
"For almost two hours you guys have kept me on hold and mentally tortured me and tried to prove that I am a drug dealer," I told him.
People started to gather around but the paramilitary forces moved them away and prohibited them from crowding the area. Now I was completely mentally prepared to go in the depth of it to find out till what extend these so called "life saver or protector" of this country will do with me.
The major asked for my closed friends contact numbers which I refused to give because I did not want to get them involved in this trouble. I gave him my elder brother's contact number. I told the major that he was not in the city so do not worry him. He dialed my brother's number and moved ahead. After a minute or so, my brother called me saying that someone by the name of Asim had called him and said that "Khalid had an accident and he is suffering from serious head injuries". 
I could feel the fear in his voice and that he was trying to find out if everything was okay with me. I told him the whole story and he asked me why this guy told him a lie. I went to Asim to find out and this time his gunmen did not allow me to go near him but still I persisted and asked him why he lied to my brother?
Asim asked me if I wanted him to tell my elder brother the truth – which I had been caught carrying illegal drugs. Now I felt the change of tone in his voice, which made me aware that I was talking to a "MAJOR".
 I told him that this may be a truth that was created by his people but not for my brother.
"If you do not know who I am, my brother and my people know me and my family very well. They will not believe your nonsense story," I added.
He ordered his gunmen to take me to the police station and launch an FIR (First Investigation Report). I responded by saying it was a mistake for me to think he was an educated person.
"You are worse than your gunmen. You have proved to me that you are bias, Balochistan is an occupied state by Pakistan and you guys have sworn to torture the innocent Balochs in the name of security," I said.
Now I had to face the knocking of his solider. All of them wanted to take part in beating me and to prove to their boss how loyal they are to him. They wanted to handcuff me but I did not allow them. They dragged me to their pickup and moved to the police station to launch the FIR. I entered into the room before them. When the officer on duty saw me spotting a French cut, carrying a laptop bag on my shoulder and wearing neat clothes, he stood up to welcome me and to find out how he can help.  When he found the paramilitary guys behind me, he changed his mind because he realized that they have brought in another victim and he cannot interfere in their work. If ordered, he has to do what they asked him to although they are from different departments. In the FIR they wanted to mention that drugs were found on me; that I have abused Pakistan; I have misbehaved with the officers in uniforms and snatched the tags on their shoulders, which they did themselves to prove me guilty. There were a lot of other allegations.
 I realized that they thought I may be a doctor by profession when I heard them telling the officer on duty that this guy does not know what type of doctors we are. He will soon find out after the FIR was launched and he was admitted to the orthopedic ward of the hospital.
Suddenly a friend of mine, a lawyer by profession entered the room and saw me sitting on the bench. We were both surprised to see each other because the last time we met was in a farewell party arranged by all my friends before I left for States for my Masters under the Fulbright Scholarship in 2006. He was there to release his client and when he saw the paramilitary forces he just kept silent for a few seconds and said to me in Balochi (language) "Khalid, I just pray for the day to come soon when we are no longer their victims".
He requested the senior police officer, who had earlier entered the room and prepared pen and paper without listening to me, not to launch the FIR. My friend told me he would handle everything and I have only to listen to him. In our culture when we authorize someone, we are bound to follow the decision he makes.  After an argument which lasted for an hour or more in a separate room between my friend and the paramilitary forces, my friend requested me to apologize to them.  One of them later demanded that I should bend down on my knees and beg for forgiveness and then only they will accept my apology. Another session continued to remove this demand.
 He told me that as a friend, he did not want to embarrass me in front of them.  He said he knew all the "dirty games" they played with the Balochs, which was why he did not want to hand me over me to them; not at any cost; not because of the physical or mental torture I was suppose to go through but just because he did not want to lose another Baloch. 
Later, I said to one of the lower ranking officers named Aslam, who spotted a trim mustache and long beard: I just want to about you guys who go along with your major; you are pretending to be practicing Muslims by your outer looks but are you ready to swear on the Holy Quran that you have not  kept the marijuana in the bag?
In response he gave me a wicked smile. My friend dropped me at home at around 02.00am and asked me to forget the incident. It would not be easy for me to forget it because I will see this happening every day and whenever I see someone being insulted at the roadside by these people it will remind me of the episode.
I do not want to be bias like Major Asim. But the questions will always occur in my mind
Why are they the only ones who could feel insulted, not us?
Why did the major lie to my brother?
Why did the major support his people despite knowing that they had kept the drug?
And why did not the major play a neutral role in this whole incident?
When I studied in America, never have I blamed the Americans for treating me as a third class citizen, but in reality we, the Balochs are treated as a third class citizens on our own land. I have travelled around the world including United States and United Kingdom but I have never been treated in such a disrespectful manner, neither at the immigration nor by their citizens. I have travelled to different cities of states and not a single day I was stopped by any law enforcement agency to prove my identity nor have I been asked to check my bag. While in Washington DC when carrying out my research, I had to cross the Senate, Supreme Court and Capitol Hill buildings in order to get to the Congress Library but not even a single day have I been stopped  but in my own land I have being asked ten times in one single hour to prove my identity.
I have been analyzing Balochistan's situation very closely and it seems to me that the Pakistani forces do not care whether we are educated or illiterate. All they want to do is prove to us that they are more powerful than us, and that our territory has been occupied by them.
It seems, we cannot ask for our rights and seek justice for our people because we are their slaves. If we do, it means that we are insulting them, and this is something they simply cannot bear. Kidnapping, torturing and murdering of innocent Balochs have proven that the gun is more powerful than knowledge or education; they will continue to control us with the power of guns. For them, every single Baloch who fights for his rights is considered to be an Indian agent, and must be dealt with urgently.
It clicked in my mind that if a Major, with an obscure features can back his people who lie, an act which neither Islam nor education allows, then why should not we support our people who are fighting for the rights of the Baloch nation?
Why should not we pay the highest respect for the people who have lost their lives for this cause? Why should not we participate in demonstrations demanding for the whereabouts of the missing Baloch\s? And why should not we motivate the youth to fight for their rights? Because fighting for justice is what Islam and education teaches us.
I urge all Balochs sitting in parliament to wake up immediately and fight for the rights of Baloch instead of being a puppet of the Pakistani law enforcement agencies and its establishment.
Mar 28
=?utf-8?B?6klzIGEgZmlyZSBhbGFybSBzdXBwb3NlZCB0byBtZWx0Pw==?
Jan 11
A Real Live Swaying Bridge in Lahore!
Okay so my brother and a friend, who were on Jinnah Flyover aka Cavalry Ground Bridge a few cars apart, were just freaked out an hour or so ago! Today is the 11th of Jan and time was 1300hrs approx.

The traffic was crawling all the way up to the bridge ALLLL the way to the Cavalry Ground side of the bridge, probably due to the traffic jam at the Firdous Market Chowk. He was heading to Main Boulevard Gulberg from the Cavalry Ground side. My brothers' friend calls him to ask if it is a quake since he is crawling at 5kmph on the bridge in the jam and the car is swaying. My brothers reply was that this aint a quake but the bridge itself. The intensity was such that my brother himself was ready to jump ship, abandon car and just get the hell off of the bridge some how. And then I get his freaked out call telling me about the experience

Could this be an impending disaster? I'm not sure what the loading limits are on that bridge and if it is designed to hold with the entire bridge loaded. I'm certain that it is SUPPOSED to be designed to support a full end to end load and a safety factor of maybe 3x or 4x?

On the Gulberg Industrial Area side of the bridge, on the road segment between the railway crossing and the Gurumangat Road, right next to one column of the bridge, WASA has dug the ground to lay a sewage line. Could it be that the excavation work carried out there has damaged the foundations?

I know that bridges sway and I have felt the sway on the same bridge myself, but nothing as much as to elicit a panic response from motorists on the bridge. But i have wondered about the possibilities and the conditions under which that can happen.

If you know some one in TEPA or LDA or NESPAK, you might want to forward this message and alert them to this and have them check out the bridge? They might also want to inform the public if something is out of whack! I I do hope that this doesn't get brushed aside as a one off instance. Else there is the Media Walas to raise a hulla balloo.

Till then i am advising every one to skip the Jinnah Flyover and try alternate routes such as the Sherpao Bridge.

Map: http://maps.google.com/maps?oe=UTF-8&q=jinnah+flyover+lahore&ie=UTF8&hq=&hnear=Jinnah+Flyover,+Lahore,+Punjab,+Pakistan&ei=__dKS6XaFpCgkQWRxKn_Ag&ved=0CAgQ8gEwAA&ll=31.501727,74.358473&spn=0.010977,0.030899&z=16&iwloc=A
Dec 15
Untitled
people always smiling when talking = hans-mukh = ہنس مُکھ
people writing 'LOL' at the beginning of EVERY SMS = lol-mukh = لول مُکھ??
Nov 17
Montgomery Tea Time?
Anyone remember the TV ad from the 80's which went, "Tea time, tea time, Montgomery tea time…Any day, any time, Montgomery tea time, Good day,  good time, Montgomery tea time…."
This was a biscuits ads from that mid eighties era.
Nov 14
I want Anaar Icecream!
How come no one makers Anaar, انار, pomegranate ice cream in Pakistan?
I want to eat exotic Anaar Ice Cream!
Nov 13
[video]